Diving Trips

When & Where
Leave: December 27, 1997 DIA
Arrive: 1:27 PM Belize City
TO: Lighthouse Reef Resort
Lighthouse Reef, Belize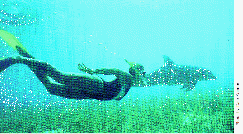 Contact: Douglas Greenspan doug@the-greenspan.com
P.O. Box 4656
Boulder, CO 80306
(303) 673-0090
(800) EARTH29



Marjanna Helwig tink@elves.com
Great Expeditions
402 Main Street
Lyons, CO 80540
From Boulder 823-6653
(888) SNORKEL
Price: $2,195 includes airfare, 7 nights at Lighthouse Reef, three meals per day, two to three boat dives per day, tanks, air, and weights, taxes and transfers.
Gratuities are not included these run ~10% of resort portion 1,095.
Subtract $400 for non-divers
All prices are based on double occupancy.
What you need: In addition to tropical travel gear for 8 days: Mask, Fins, Snorkel, BC, wet suit if desired, regulator with gages, secondary air source and bug repellent for "no-see-um" while on the beach.
Payment: We need $400 ASAP to confirm your reservation, and the balance must be paid 1 week prior to departure.
*Until the balance is paid, airfare is subject to change.
For Information contact:
Send mail to Douglas Greenspan with questions or comments about this web site.
Copyright © 2001 The GreenSpan® Group
Last modified: December 02, 2003